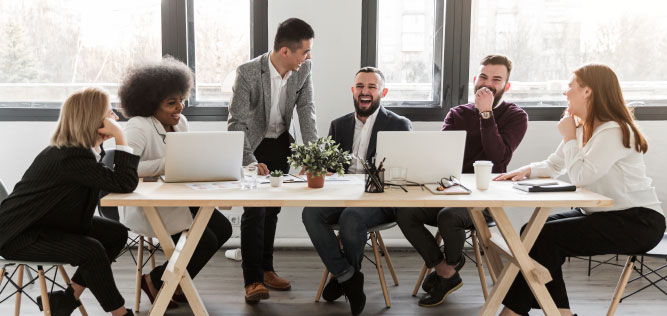 Why Join Us?
If you are looking for challenges and opportunity to develop your career and hone your skill, we provide you the platform to work and achieve.
Work Culture at SPECTRUM, provide you enough opportunity to explore your potential, capabilities and keenness to deliver job to the required satisfaction.
Spectrum believes that commitment of our employees is the reason of our success. We provide a wide range of career growths at different levels; Spectrum is therefore looking for job seekers who are willing to grow with the company.
The people in our organization are key to our success. Given this direct link, our focus on growing the business is tied to developing our people.
We invite you to be part of our family of learners and achievers. The differentiation we seek in our recruits that set them apart from the rest, are passion and enthusiasm for work, service, focus on quality and Energetic to deliver on time.
Spectrum sets challenging goals, focuses on output, and expects its employees to assume responsibility and deliver results consistently.
current Hirings
Sr. Manager - Construction Management

Qualification: BE Civil Engineering Experience: 15 to 20 Years in Construction Management, preferred candidate from PMC or Pharma industry

Safety Engineer - Construction Management

Qualification: BE Mechanical Engineering with added couse in safety Experience: 10 to 12 Years of experience in safety in Pharmaceutical Industry

Electrical Engineer - Construction Management

Qualification: BE Electrical Engineering Experience: 10 to 12 Years of site execution, preferred candidate from PMC or Pharma industry

Mechanical Engineer - Construction Management

Qualification: BE Mechanical Engineering Experience: 10 to 12 Years of site execution, preferred candidate from PMC or Pharma industry