Biopharmaceuticals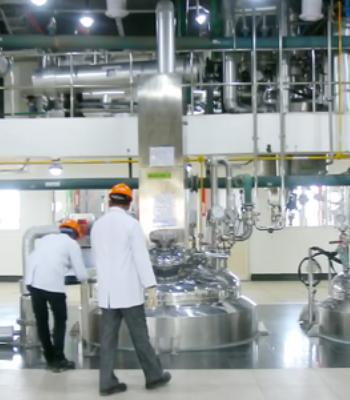 Spectrum has rich experience in Design and Selection of suitable process design specifically associated with Upstream, Downstream and Filling & Packing for the Biotech/ Biologics and Fermentation-based APIs.
We consider the biosafety level of the product during designing. We have SME's having extensive experience working in Biopharma companies.
We have designed facilities for fermentation-based products and our team is well versed with process knowledge of Cell Culture Growth and the Downstream Separation Process.
We design very complex facilities like BSL – 3 and BSL – 2, which is a prime requirement in designing any Vaccine Facility. Every block of biopharmaceutical facility like seed culture growth, upstream process, downstream separation process, filling and packing section requires different design philosophies and bio-safety levels. We identify the right balance of capacity output and process time during the selection of Bioreactors.
We provide different options of process flow and recommend Bioreactor's like Single Use Bioreactor, Perforated Sheet Bioreactor and Stainless-Steel Bioreactor depending on the process, cost, and timeline of the project.
We have experience in setting up below facilities -
Fermentation-based APIs
Insulin
Human/Veterinary Vaccines
Foot & Mouth Disease Vaccines (FMD)
Biosimilar API
Antigens
Monoclonal Antibodies
Biology Lab
Probiotic