Healthcare & Diagnostic Centre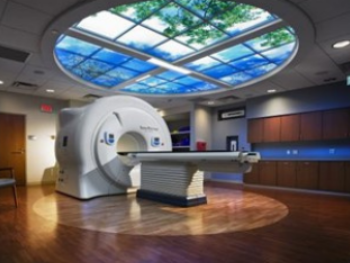 Hospital design is undoubtedly one of the most important, and often difficult to design.
We provide complete design and engineering services considering Indian and Global standards such as NABH, JCI, LEED Gold and Platinum, Green Building etc. We have capabilities to design the entire range of Hospitals starting from a basic procedure room up to hybrid operating rooms which are, quite complex in design. Since our main goal is in designing hospitals which are patient safety, infection control, ease of operations, flexibility, and future upgradability, we combine all these concepts in each hospital.
Most of the infection spreads in the hospital, it is important to design hospital wherein the patient health is safe from the outsider and vice versa to have less spread of infections specially in highly contagious diseases which spreads on touch or through air. The hospital air flow should be such that there is no air contamination, dedicated AHU's with micro and HEPA filtration can be planned for dedicated wards or operation theatre wherein patients are of highly infectious. The hospital waste should be planned properly to dispose without having direct exposure to hospital staff and patients.
We have in-house professional bio-medical engineers having in depth knowledge in equipment selection, planning and procurement. Hospital design should not only be aesthetic but should be plan as per patient safety, man material moment, and cost-effective designs which has less operational burden. The most complex designs are operation theatre and radiology department. In new era the hospitals have a specific demands of recreation centres, yoga and gymnasium facilities which helps medical tourism.
We have experience in setting up below facilities -
Diagnostics Facility & Centers
Modular OT Design
Operation Theatre Complex
CSSD Design
Critical Care Design